Drainage Solutions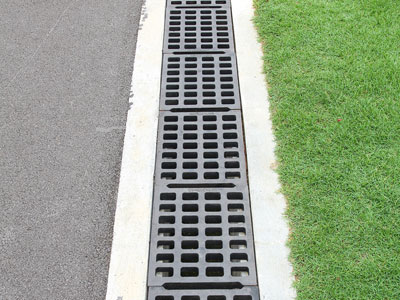 Every landscape is a combination of various features and only when they all are planned and installed well, can a landscape be sustainable and healthy. Most people focus on features such as plantings and hardscaping features such as retaining walls, garden steps etc. and installations such as drainage systems tend to get sidelined.

New Visions Lawn and Landscape provides drainage installation services to customers in and around Panama City, Panama City Beach, and Lynn Haven. They have also handled a number of projects for property owners across Callaway, Port St. Joe, as well as Santa Rosa Beach. The different types of drains they can design and install are:


French Drain
These are very simple drainage installations that can be used in landscapes of all sizes. A French drain is a very simple system that is effective in leading water away from the foundation of your home and towards the outside of your property. In most instances, these drains are installed along with other drainage systems. While these drains are very effective in directing excess water from the landscaping towards the exterior of your property, the land has to be graded well before they are installed.


Drainage Systems
There are times when you find there is pooling of water on your property and you may have noticed this in the lawn areas as well as the hardscaped or planting areas of your property. This kind of water accumulation does a significant amount of harm to the landscaping and it can also impact the foundation of your home structure. When you hire a credible company for your landscaping work, they will also include comprehensive drainage solutions in the project.


Drain Pipe
When a landscape designer is planning your landscape, they need to ensure that the drainage system is planned well. Regardless of how well planned and installed the rest of the features are, if the drainage isn't up to the mark, that can impact the health of the landscape. The lawns can get damaged and so can the plants and trees. In fact, if there is too much of water in the outdoor spaces, that can flow back towards the house and affect the integrity of the structure as well. The landscape experts will ensure there are proper drain pipe installations at strategic locations to take care of this problem.


Trench Drain
These are very simple installations that are extremely effective in directing water from your landscape to the outside of your property. These trenches are lined with rocks and then covered with a special mesh to prevent leaves and debris from falling into them and clogging them. The company that handles your landscaping project will ensure that these are built in an expert manner.

When you want Drainage solutions that match your needs and budget, you should look for a company that will be able to provide custom solutions, like New Visions Lawn and Landscape. Hiring experienced and expert professionals for the job ensures you get the kind of outdoor spaces you like.

"MORE ARTICLES"
Landscape Design
Irrigation
Outdoor Lighting
Landscaping
Lawn Care
We Provide Services to the Following Cities, Towns and Surrounding Regions of FL: