Irrigation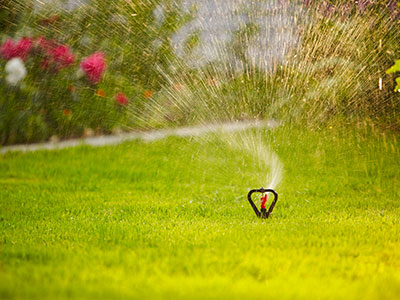 Every landscape has a certain number of plants, shrubs and trees; and most landscapes also have some lawn areas. While it is important that you hire the services of an experienced professional to handle the design and installation of your landscape, you also need to ensure that the garden and yard areas have all the right features and installations. Even as you plan the softscaping and hardscaping, it is crucial that you get the irrigation systems planned well.

New Visions Lawn and Landscape provides irrigation installation services to customers in and around Panama City, Panama City Beach, and Lynn Haven. They have also handled a number of projects for property owners across Callaway, Port St. Joe, as well as Santa Rosa Beach. They provide a variety of irrigation solutions including:


Drip Irrigation
This is a very simple yet effective irrigation system and is ideal for vey spread out landscapes. In this installation, a network of hoses is spread across the landscape, leading to the areas where different plants and shrubs are. These hoses have small emitters attached to them. These emitters deposit water at the roots of the plants and this keeps the soil moist. Since the water only drips into the soil, there is no wastage and this makes it a very water-efficient drainage system. In most instances, a drip irrigation system is used in combination with sprinkler systems and soaker hoses.


Sprinkler System
Anyone that has lawns on their property knows exactly how difficult it can be to ensure these are watered well and with regularity. While some people do handle this task themselves, the job can be quite time consuming. This is why most homeowners prefer to get sprinkler systems installed in their lawn spaces. You can choose between manual or automatic sprinkler systems based on how vast the lawn spaces are and what your requirement and budget is. The landscape expert that handles this job for you will provide custom solutions based on your specific needs. Automated systems are extremely convenient as they can be set to the watering schedule you want.


Irrigation Systems
Irrigation systems on a landscape have to be planned well. In fact, these features are one of the first installations in any landscape project. The landscapers will ensure that the ground has been graded well and that it is excavated as required to install the irrigation systems. The landscapers may use installations such as sprinkler systems, soaker hoses and drip irrigation systems. They will decide which systems work best based on the kind of plantings you have on your property. They will use high grade installations and deploy experienced irrigation system installers for the job so that you get a robust garden irrigation system installation.

When you want Irrigation solutions that match your needs and budget, you should look for a company that will be able to provide custom solutions, like New Visions Lawn and Landscape. Hiring experienced and expert professionals for the job ensures you get the kind of outdoor spaces you like.

"MORE ARTICLES"
Landscape Design
Drainage Solutions
Outdoor Lighting
Landscaping
Lawn Care
We Provide Services to the Following Cities, Towns and Surrounding Regions of FL: