Landscape Design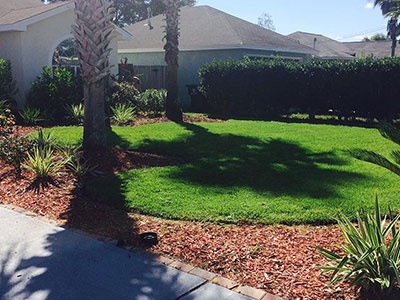 Creating stunning landscapes is a lot about ensuring that they are designed well. The layout, segregation of areas, planning, the type of features that are to be installed and the different materials used are all taken into consideration in the designing phase. The designer works with you to ensure you get the kind of outdoor spaces that will add to the beauty and functionality of your home.

New Visions Lawn and Landscape provides Landscape Design services to customers in and around Panama City, Panama City Beach, and Lynn Haven. They have also handled a number of projects for property owners across Callaway, Port St. Joe, as well as Santa Rosa Beach. The different solutions they help with are:


Landscaping Ideas
As a homeowner you have certain ideas about how you want the garden and yard spaces to look, but you need the skill and experience of landscape designers to bring those ideas to life. Aside from this, good landscapers are very creative and they provide ideas and suggestions of their own that make these spaces more usable. They also ensure all the elements and features are in sync with each other.


Garden Design
Designing a garden is much more than just planting a few shrubs and trees. It's about working on a theme or concept and then ensuring that all the installations and materials used are in line with those concepts. Your landscape is one of the first things that people visiting your home see, and it goes without saying that you would have to get it designed well. The design of the garden should complement the architectural elements of your home to create a more cohesive look on your property.


Patio Design
Patio spaces help extend the living areas of your home and you are able to use these as relaxation spots. You can install a fireplace, BBQ or grill and some seating as well. Many people prefer to install an outdoor kitchen on their patio as this gives them the opportunity to use it in a more functional manner. The patio design should complement the look of the other elements and features on the landscape, to create a whole that adds value to your property.


Landscape Designer
A good landscape designer will always take your ideas and preferences into account while creating landscape plans. They will also ensure that all the installations are designed to fit perfectly into the available space and that they are functional and attractive all at once. A designer is trained and skilled enough to provide unique plans and concepts, so you can be assured that your garden and yard areas are stunning in every way.


Landscape Architect
Many landscaping companies have a landscape architect on board. This professional can provide you design and plans for your yard and garden and can create beautiful outdoor spaces on your property. When these areas are planned and installed well, you will be encouraged to use them more frequently and these spaces will also add to the overall value of your home.

When you want Landscape Design solutions that match your needs and budget, you should look for a company that will be able to provide custom solutions, like New Visions Lawn and Landscape. Hiring experienced and expert professionals for the job ensures you get the kind of outdoor spaces you like.

"MORE ARTICLES"
Landscape Design
Irrigation
Outdoor Lighting
Landscaping
Lawn Care
We Provide Services to the Following Cities, Towns and Surrounding Regions of FL: