Landscaping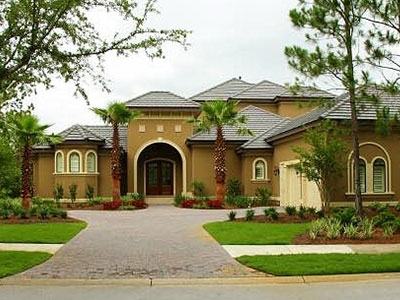 When you are building a new home, you like to ensure that the outdoor spaces are as well planned as the indoor ones. This is why you hire landscape designers to provide ideas and plans for the yard and garden areas. It is important to hire experienced professionals for the job as they would be able to provide custom solutions based on the amount of space available, the kind of design you like and features you want.

New Visions Lawn and Landscape provides Landscaping services to customers in and around Panama City, Panama City Beach, and Lynn Haven. They have also handled a number of projects for property owners across Callaway, Port St. Joe, as well as Santa Rosa Beach. The different solutions they provide include:


Landscape
Your landscape isn't just a place where you plant a few trees and shrubs. It's an area that can be used as an entertainment and relaxation zone, if it is planned well. The one way to ensure this happens is to hire the services of a company that provides comprehensive landscape design and installation services. Your landscape is a combination of various features and elements that are used in the right measure to create pleasant and functional outdoor spaces.


Landscape Design
When a landscaping company provides design ideas for your garden and yard, they will take a number of different factors into account such as the spread of the open spaces, the kind of elements you want the materials to be used and the overall theme you want to follow. When all these aspects are taken into account and these are designed with care, you will have stunning outdoor areas that add to the functionality and value of your property. Creating good landscape plans requires skill and training and only a well-established company would be able to provide you custom solutions.


Lawn Care
Lawn installations add to the beauty of your landscape and they also become spots where you can relax or your kids and pets can play in a safe manner. However, the turf sees a lot of wear and tear and it is also exposed to the elements. This makes it important to ensure that the grass is looked after with regularity. The company that provides landscape maintenance services will also provide customized lawn care plans based on your specific needs.


Landscapers
When you are looking for landscapers that will be able to provide you the kind of outdoor spaces you would like to use every day, you should choose a company that has a good amount of experience in the field. These professionals should be able to provide all-round landscaping services that include design and planning as well as material selection and installation.

When you want Landscaping solutions that match your needs and budget, you should look for a company that will be able to provide custom solutions, like New Visions Lawn and Landscape. Hiring experienced and expert professionals for the job ensures you get the kind of outdoor spaces you like.

"MORE ARTICLES"
Landscape Design
Drainage Solutions
Irrigation
Outdoor Lighting
Lawn Care
We Provide Services to the Following Cities, Towns and Surrounding Regions of FL: