Landscape Lighting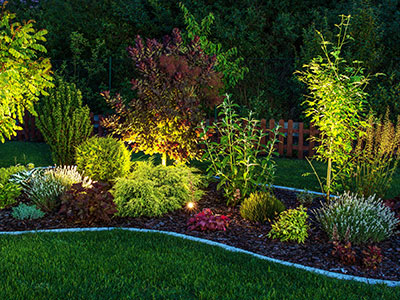 The landscaped areas of your home add to the charm and value of your property. They create a very green and open atmosphere and also become excellent relaxation areas. You can use these in the daytime to entertain friends or spend time with your family as well. However, if you want to use these gardens and yard spaces after dark, you would need to have the right kind of illumination. This will add to the functionality and value of your property.

New Visions Lawn and Landscape provides Outdoor Lighting services to customers in and around Panama City, Panama City Beach, and Lynn Haven. They have also handled a number of projects for property owners across Callaway, Port St. Joe, as well as Santa Rosa Beach. The varieties of solutions they provide are:


Outdoor Lighting
A good landscaping company will always have outdoor lighting experts on board that work in tandem with the designers to plan and install lighting fixtures that will make these outdoor areas more functional and attractive. The different types of lights that can be installed are- pathway lamp posts, paver lights, boundary lights, step lighting, floodlights and more. The kind of fixtures used will be based on the type of features on the property and the spread of the landscape as well. A well illuminate yard and garden area acts as a deterrent for unsavory elements and makes these spaces more functional too.


Outdoor LED Lighting
While it is important to have a good number of light fixtures in the landscaping, these can significantly increase your utility bills. The one way to keep that under control without compromising on the lighting aspect is to get energy-efficient lights fitted. Most landscapers recommend the use of LED lighting. These bulbs and fittings are 85% more energy-efficient than standard bulbs and they have a positive impact on your electricity bills. They also last for a very long time and are almost maintenance-free. This means you save a lot of money in that aspect as well. These bulbs are available in different colors and hues and can also be installed as underwater light fittings.


Low Voltage Lighting
The outdoor lighting fixtures on your property create a very inviting and lively atmosphere on your property. They also go a long way in making these areas more functional after dark and add to the security of your property. However, too many lights can burn a hole in your pocket as you will end up spending large amounts of money on utility bills. In addition to getting LED lights installed, you can also opt for low voltage lighting fixtures such as transformers, relays, dimmers etc. These can help you control the amount of energy used and will help reduce your utility bills.

When you want Outdoor Lighting solutions that match your needs and budget, you should look for a company that will be able to provide custom solutions, like New Visions Lawn and Landscape. Hiring experienced and expert professionals for the job ensures you get the kind of outdoor spaces you like.

"MORE ARTICLES"
Landscape Design
Drainage Solutions
Irrigation
Landscaping
Lawn Care
We Provide Services to the Following Cities, Towns and Surrounding Regions of FL: